District of Babek
| | |
| --- | --- |
| Total territory [sq. km] | 828,42 |
| Total number of population [th. people] | 76,5 |
| Villages | 33 |
| Settlements | 2 |
| Municipalities | 25 |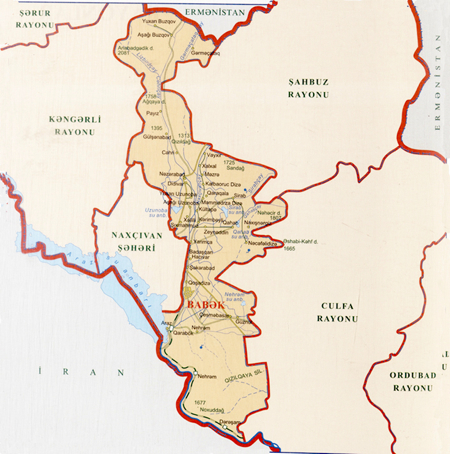 The Babek region was founded under the initiative of the National Leader of the Azerbaijani people Heydar Aliyev in 1978. Tezekend, located 6 km south-east from Nakhchivan, was determined as the centre of the region and named the settlement Babek. Babek is a settlement of urban type.
The region of Babek is bordered with the regions Kengerli in the west, Shahbuz in north-east and Julfa in the east, The Islamic Republic of Iran in the south and Armenia in the north-east.
The south mountain foot of the chain Daralayaz in the north, the hills and highlands the tail of mountain Zangazur in the south-east, Nakhivan slanting plain in the south and Gulustan plain in the south east make the relief of the region. The highest peak is in the mountain Buzgov (2475). The territory of the region Babek is rich in minerals, such as stone, salt and building materials. The mineral springs Sirab, Vaykhir, Jahri, Gahab and others are also found in this region.
The main rivers of the region are Nakhchivanchay which divides the territory of the administrative region and its flow Jehrichay. They play important role in irrigation. One can also find in the region reservoir of Araz water station, also reservoirs Uzunoba, Nehram, Sirab, Jahri and Gahab and irrigation canals.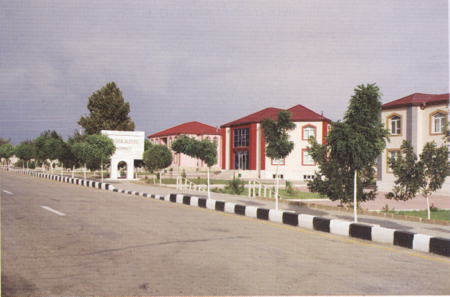 The region is also rich for its fauna and flora. There are varieties of fish in the reservoir of Araz water station.
The territory of region Babek is also rich with historical archaeological monuments. Natural-geographical position of the region created condition for settlement and long residence of ancient tribes engaged in cultivation and animal breeding. The world importance monuments I Kultepe and II Keltepe are in the area of the region Babek.