Art of Painting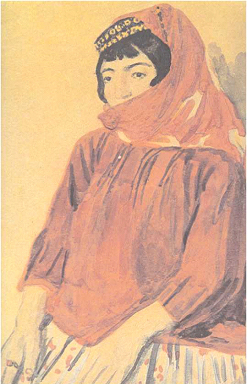 The roots of art of painting in Nakhchivan go up to the ancient Gamigaya drawings (VII-I millennium BC) despite its professional appearance at the early XX century. In these drawings, which reflect the outlook, artistic-aesthetic thought of ancient inhabitants of this land, their economical life and mode of life (hunting, ceremony, dancing scenes, stone carvings with some plot, goat, bull, deer, bird and other animal pictures, different pictographic signs) became eternal. Material-cultural examples having been found in the territory, especially column bases, which were found from Zogala dwelling place in the Alinjachay valley, original bronze griffin figures (VI-VII centuries), bronze monument of Javanshir and other works of art show that the descriptive art existed in Nakhchivan since ancient times.
In the Middle Ages, since Islam as a religion is comparatively against to descriptive art, calligraphy, engraving and bibliography developed in Nakhchivan as it was in all Middle East countries. Then Nashavi Haddad ibn Assim (XI c.), Izzaddin Abulfazi Doblatshah as-Sahibi (XII c.), Afig Ordubadi, Mirza Mahammad Ordubadi (XVI-XVII c.), eminent poet Usta Zeynal Naggash (XIX c.) and others were able craftsmen.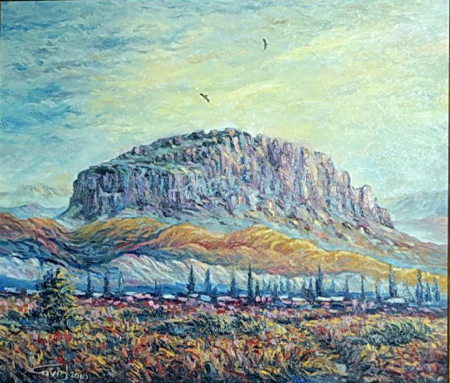 The art of professional work of painter was created at the beginning of the XX century. In the works of Bahruz Kangarli, the founder of realist Azerbaijan painting, the color of the time, topical subjects found their reflection. The developing of panorama and portrait genres in Azerbaijan painting is connected with his name. Number of portraits of our people who had been forced to run away to foreign lands because of the massacre of Armenians against our nation ("A Refugee Woman", 1921; the Azerbaijan State Art Museum named after R.Mustafayev, etc.), occupy a significant place not only in the creative work of the painter, but also in Azerbaijan painting.
During last 80 years together with other fields of art, descriptive art also developed. The famous Azerbaijan and Turkish painters Ibrahim Safi, people's artists Husseyn Aliyev and Elmira Shahtakhtinskaya, Honored Art Worker Ayyub Husseynov, Honored artist Jamil Mufidzadah are from this land. Honored Art Worker Shamil Gaziyev and Ayyub Fataliyev are mainly known as theatre painters. S.Gaziyev's portrait "A Shepherd" (1931) is preserved at the Tretyakov Gallery (Moscow).
In recent years there is an obvious revival of the artists' work. The Union of Painters works in the Nakhchivan AR. The works of prominent artists are protected, propagandized and displayed in the State Picture gallery and the exhibition room of Union of Artists.