District of Shahbuz
| | |
| --- | --- |
| Total territory, [sq. km] | 836,58 |
| Total number of population [th. people] | 25,3 |
| Cities | 1 |
| Villages | 22 |
| Settlements | 1 |
| Municipalities | 20 |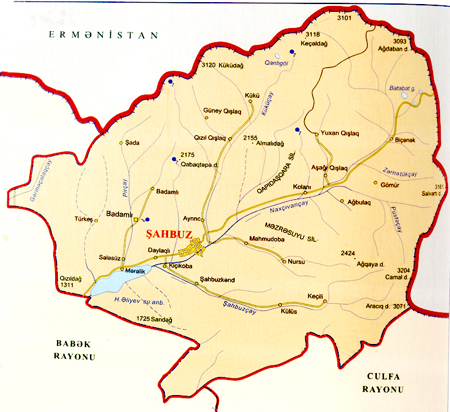 Shahbuz region, included into the administrative territorial unit of Nakhchivan Autonomus Republic, was established in 1930, liquidated in 1963, added into the region of Nakhivan and in 1978 into the region Babek, regained its independence in 1965.
Shahbuz is bordered on Armenia on the east and the north. The centre of the region is Shahbuz settlement.
Shahbuz region is located on the south foot of the Daralayaz chain of the Small Caucasus and the western foots of the Zangazur chain. The relief of the region is mainly composed of the mountains. The highest peaks are the mountain Salvarti (3160 m) and Kecheldag (3115 m) in Zangazur mountains and the mountains Kuku (3120 m) and Bichenek mountain pass (2346 m) in Daralayaz chain.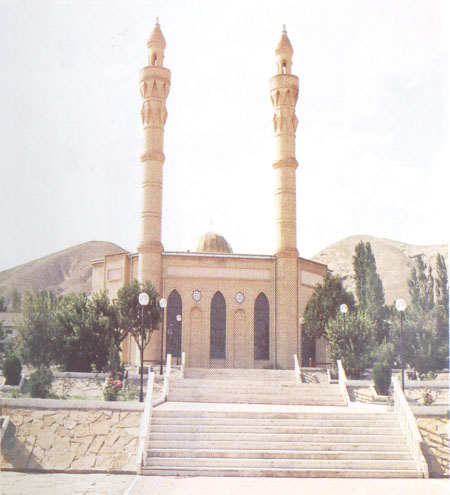 The river Nakhchivan flows (Kuku, Shahbuz and Salvarti) cross the territories of the region. The region is rich with the medicinal herbs and the mineral waters (Badamli, Batabat, Bichenek and Karvansara). The climate is the cold with arid summer. The lakes Ganligol and Batabat are used as the water reservoirs.