Museums
There are 23 museums, namely Heydar Aliyev Museum, history, literature, "Azerbaijan carpet", "Memory" museums of the Nakhchivan Autonomous Republic and the museum under opened heavens, 6 district history-ethnography and 7 home museums, and the memorial museum of J.Mammadguluzade in Nehram village of Babek district.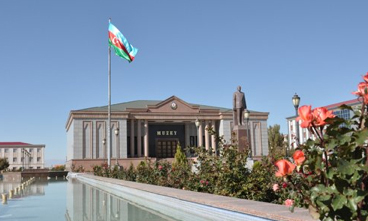 Heydar Aliyev museum – Being located in Nakhchivan city it is open to public since May 10, 1999. In the Museum there are available posters dedicated to National Leader Heydar Aliyev's family, his childhood and youth, relevant documents and materials as well as signed letters, resolutions and orders, copies of the agreements signed with the Republic of Turkey and Islamic Republic of Iran, and appeals of people of the Republic of Azerbaijan concerning to the period when he works as the chairman of Supreme Assembly of the Nakhchivan AR. There are five sections in the museum.There is wide range of journals, albums, and books, reflecting life and activity of Heydar Aliyev in the library of museum.
Web-site of the museum: www.aliyev-museum.nakhchivan.az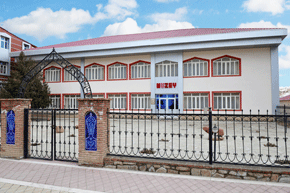 Nakhchivan State History Museum – The state status was granted in 1968 to this museum established in 1924. The material-cultural and applied art samples, ancient numismatic materials, as well as national clothes, artistic embroidery samples and carpet wares, adornment and daily-life goods, art works and etc. discovered during archeological excavations in the Nakhchivan Autonomous Republic are exhibited in the museum within which over 45 thousand exhibits are protected. Furthermore, scientific research works are conducted, stationary and mobile exhibitions are organized, and several educative events such as meetings, ceremonies, scientific-theoretic and practical conferences, round tables are held in the museum.Apart from Nakhchivan AR State History Museum, there are 6 regional history-ethnography museums in the autonomous republic. These museums, reflecting the history and culture of the relevant districts from the very ancient times onward, are of crucial importance in terms of national and historical memory.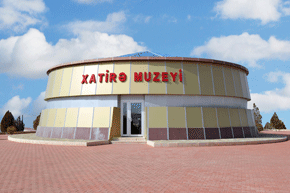 Memorial museum – Being founded with the aim to perpetuate the memory of Nakhchivanis killed in the battles for the territorial integrity and sovereignty of Azerbaijan, this museum is located in the 100-m2 round-shaped building on the hill along the Nakhchivan-Sharur road. 1200 exhibits, namely photos, personal documents, and materials as to war activities of Nakhchivan martyrs, including the photos, personal belongings and other materials of national and Soviet Union heroes, are preserved and exhibited.
The Nakhchivan State Carpet Museum– Being established as Nakhchivan carpet museum in April 1998, the museum was soon named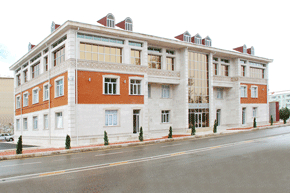 as "Azerbaijan Carpet" Nakhchivan Autonomous Republic State Museum. It is located in 200-year "Khan House" of Nakhchivan city. The samples of all types of carpets (xovlu və xovsuz kilim, sumax, vərni, şəddə, palaz, cecim və.s.) and carpet wares (məfrəş, heybə, çanta, torba, xurcun, örkən və.s.) are exhibited here. The carpet samples related to XVIII-XIX century Ganja-Gazakh, Guba-Shirvan, Garabagh, Tebriz-Nakhchivan carpet-making schools are preserved in the museum. Alongside "Gollu chichi", "Pirabadil", "Alpan", "Gadim afshan", "Ovchulug", "Zili", "Ancient buta", "Nakhchivan", "Gasimushaghi", carpets with a plot are important. Home things – copper trays, potteries and porcelains, and ancient national man and woman clothes are exhibited in the museum. The exhibitions of carpet-makers of the republic and the meetings with craftsmen are held here, and the video-records are preserved. 
At present, 264 flatweave and pileweave carpets, various handcrafts, embroideries and weaving tools together with 60 copper and faience dishes, form part of the permanent exhibition in the Nakhchivan State Carpet Museum
Since 2010 the museum has moved to a new building on Heydar Aliyev Avenue.
After reconstruction in 2013 an exposition of the Nakhchivan State Carpet Museum has been enriched, the museum's web site has been developed. 2013-cü ildə yenidənqurmadan sonra istifadəyə verilən Naxçıvan. http://xalca.nakhchivan.az/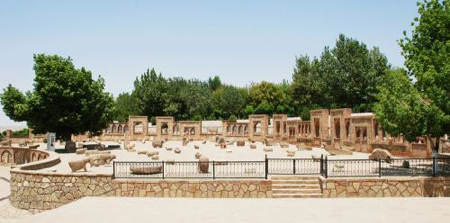 The Museum Under Open Sky – The ram monuments, inscriptions on stone, and 450 material-cultural samples consisting of various stone figures, of different ages found in the area of Nakhchivan Autonomous Republic are protected and exhibited in the museum established in 2002 in "Ajami" place of Nakhchivan city. The Momina Hatun tomb museum of XII century environs 2.58ha area dates back to Azerbaijan Atabeyler state.
The Literature Museum of Nakhchivan Autonomous Republic named after J.Mammadguluzadeh– The museum was founded in 1966. It has more than 18 thousand exhibits. Precious manuscripts, applied and descriptive  art samples, ancient and modern books, paper and maqazines, memorial things and other museum materials reflecting centuries-old Azerbaijan literature  history are kept in its fund.
Jalilkand branch of the museum works in Sharur region. Here documents, photo materials and personal belongings of Jalil Mammadguluzadeh, prominent Azerbaijan writer are exhibited.
"Khan Palace" State History Architecture Museum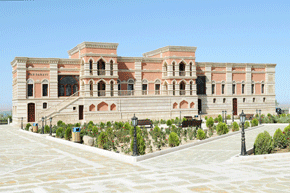 Nakhchivan khanates was founded in 1747 by Huseyngulu khan, lived 81 year, due to the signed Turkmanchay peace treaty, 10 February 1828 liquidated, Nakhchivan and Iravan khanates were liquidated formally being Russian component.
In 1787-1797 years the ruler of  Nakhchivan khanate Kalbali khan I built  Khan Palace in Nakhchivan city. After 1820 sons of Kalbali khan I, Nazarali khan  and Ehsan khan I ruled  Nakhchivan khanate in this building.
Taking into account Nakhchivan khanate's role in national  statehood, services in preserving  Azerbaijan  land  in this territory by the 23 October 2010 year resolution  of the Nakhchivan Autonomous  Republic Supreme Majlis  Chairman "Khan Palace"  State History- Architecture  Museum was founded.
At present there are more than 900exhibits in 8 exhibition  halls in the museum. Among these  exhibits archives, photos, Nakhchivan khanates family,  khanate map are exhibited, too.
The Square and Museum of the National Flag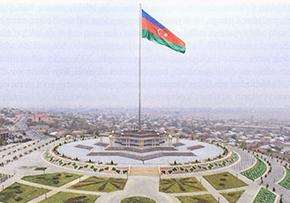 The Square and Museum of the National Flag were established according to the Order of the Chief of the Ali Majlis of  Nakhchivan Autonomous Republic dated on August 22, 2014 and started functioning since November 17, 2014. Flags and state attributes belonging to different periods in Nakhchivan are demonstrated in the museum. Our tricolour flag established in the period of the People's Republic of Azerbaijan (ADR) was hoisted for the second time by the Great Leader Heydar Aliyev on November 17, 1990 in Nakhchivan. The museum has been provided with detailed information on historical decrees, the State Flag of the Republic of Azerbaijan and other state attributes accepted during those years. It was informed that, every year on November 17 is celebrated as "the National Flag Day of the Nakhchivan Autonomous Republic" with the Order of the Chief of the Ali Majlis of Nakhchivan Autonomous Republic, Mr. Vasıf Talıbov dated on November 17, 2014.
Home Museums – There are home museums of writers J.Mammadguluzade and M.S.Ordubadi, romantic poet and playwright H.Javid,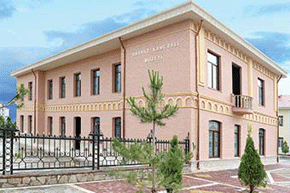 academician Y.Mammadaliyev, military figure J.Nakhchivansky and artist B.Kangarli, all of whom were born in Nakhchivan, in the autonomous republic. The exhibits of different periods of their life and activity, including various documents, literary works, photos, memorial goods and etc. are exhibited in the museums.
Construction of the building for "Gemigaya" Historical-Artistic Reserve and Museum in Ordubad, improvement of the Bahruz Kengerli Musem and Babek Regional Local History Museum in Nakhchivan and restoration of the "Buzkhana" historical-architectoral monument in Nakhchivan city had been completed.