District of Sederek
| | |
| --- | --- |
| Total territory, [sq. km] | 163,74 |
| Total number of population [th. people] | 16,1 |
| Villages | 3 |
| Settlements | 1 |
| Municipalities | 3 |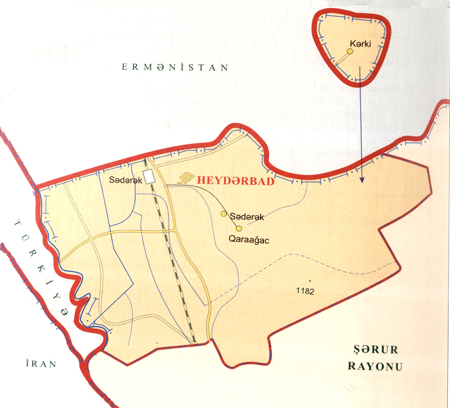 Sederek separated from Sherur in August 28, 1990 and got the status of the region.
In south-east Sederek region is bordered by the Republic of Turkey (here Azerbaijan is bordered by Turkey with 11 km), with Armenian Republic along 24 km in north-west and with Sherur along 27 km in south-east.
The territory of the region is mainly composed of lowlands and surrounded by the chains of Ujubiz, Ajdakan, Velidag and Tejgar. Turkey and Sederek are separated with the river Araz.